Customer
A software company providing ad hoc solutions for ultimate web surfing experience free of the excessive use of third-party applications. The Customer's powerful assets help to socialize and manage media content both online and offline.
Challenge
With understanding and compassion for the frustrations of end-users navigating among numerous media apps and services, the Customer conceived an all-in-one web browsing application specifically suitable for music connoisseurs, video lovers and people with an active online presence. Our task was to create a Mac version of the browser and to implement a system of updates for Windows and Mac. Other challenges faced by Our team included an auto-updates subsystem which is user-friendly and highly customizable as well as a solution for torrents managing from the browser.
Solution
The team working on the Project originally consisted of six seasoned developers and the total work log has already amounted to 220 weeks. Over this time the adaptation of the Chromium-based browser for Mac has been successfully accomplished and a custom Mac installer has been created.
To keep the browser on the cutting edge of technological trends a system of updates and an auto-updates subsystem for Windows and Mac have been implemented.
One of the unique features of the Product is its ability to support and manage torrent downloads directly from the browser, with lightning speeds and the intuitive interface making for delightful user experience.
Another distinguishing feature of the browser is the single access point integration with all the major social networks and content sharing platforms. The Customer´s designated music service has been integrated in the Product via add-ons, web and desktop apps.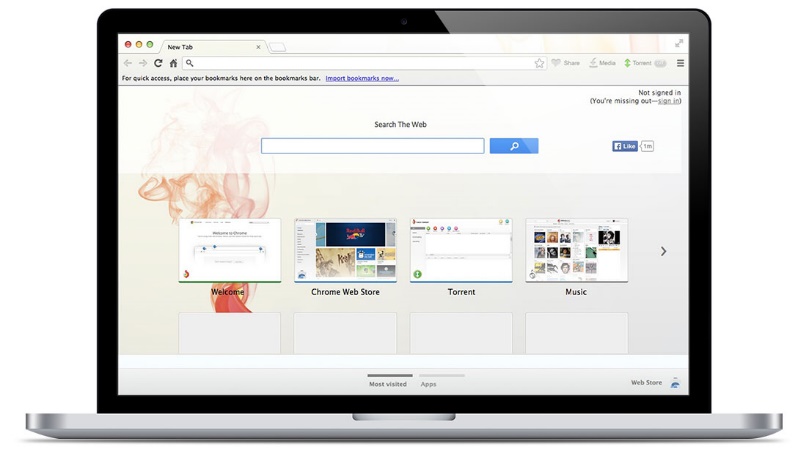 Our Team has also created a special Launcher for Windows which allows the browser users instantly access their favorite bookmarks, page view history and the pages they frequent directly from their desktops in a single click.
Results
As a result the Product has seen several releases with all the required features being implemented and after 2 years the team of five specialists continues to improve the user experience and the Product performance by regularly delivering updates and new features. Now the browser is successfully competing among the market leaders with more than 10 mln monthly active users.
Technologies and Tools
To provide for high up-to-date UX, performance, and security standards, the Chromium browser's framework has been extensively customized and extended with C++ libraries such as libtorrent-rasterbar library, cryptographic tools such as Crypto++ and OpenSSL, and HTML / JavaScript for internal pages. Windows Service and Mac Daemon were developed for the auto-update subsystem of the Product.
To ensure sustainability and flexibly demands of the Customer's growing and changing needs the project is being developed on the Time & Materials model and Agile methodology.